Could Dubai become Monaco of the Middle East?
Before the global Covid outbreak, business executives and professionals used to fly to Dubai from their hometowns quite frequently. In the wake of the global social distancing protocols, many of these business professionals decided to move to Dubai permanently. Free travel was still restricted and there was an urgent need to be based in a place from where smooth business operations could be made possible. It helped Dubai to emerge as the perfect place for international business owners and professionals.
Why Dubai?
Strategic location and direct flights to most destinations are not the only factor that influenced the international business travelers' throng to Dubai. There are many other contributing factors like a stable government, a tax-free regime, a unique location, and its bilateral terms with the rest of the world.
Taxes are on the rise in the post-Covid era
While taxes are on the rise globally in the post-Covid era, Dubai has continued to offer a tax-free regime to its investors, business owners, and HNWIs. Dubai has started many visa classes to attract HNWIs like Golden Visa. Further, visa classes for freelancers and global workers are available as well which are not tied to a company. There are no taxes apart from the Value Added Tax (VAT) which are only 5%.
European HNWIs Throng to Dubai Post-Pandemic
Investors and business owners flock to the regions where money flows. In the post-pandemic world, the HNWIs from Europe have found a new home in Dubai. According to a recent report, more than 2,000 millionaires have moved to Dubai since the global outbreak of the novel coronavirus.
The New World Wealth, known for tracking wealth movement by millionaires, said in one of its recent reports that the HNWIs population in Dubai surged to 54,000 by June 2021, which was 52,000 in December 2020, thereby translating an increase of 3.8%.
Monaco – a city-state situated on the French coast of the Mediterranean, has one of the highest number of HNWIs per capita. In the post-covid world; many HNWIs are choosing Dubai as their home.  So it is the only logical reason to see what sectors will prosper in Dubai.
Monaco's Top-Performing Sectors
According to IMSEE, scientific and technical activities, administrative and support services contributed 20.3% to Monaco's GDP, followed by financial and insurance activities at 18.3%, construction at 11.4%, real estate at 9.6%, and wholesale trade at 8.6%. Breakdown of Monaco's market is below: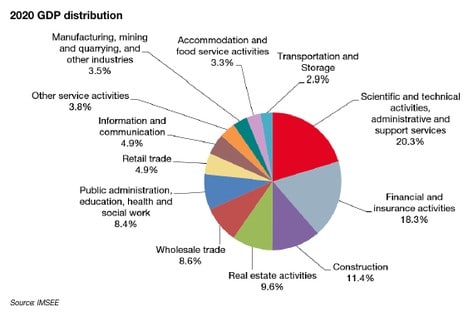 A Glance at the UAE Economy (Sector Wise)
The UAE economy is quite mature when it comes to sectors that normally flourish with HNWIs. No difference when it comes to a sector diversification in recent times. According to the figures prepared by Statista, the wholesale and retail industry contributed 22.7%, financial services & insurance chipped in with 11.9%, transport and storage with 11.7%, manufacturing with 8.9%, and real estate with 8.2% to the UAE GDP during the first quarter of the Year 2021.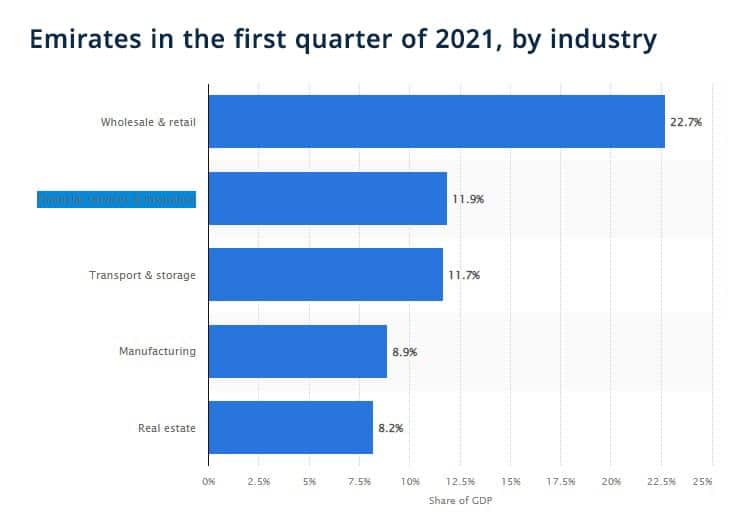 Sectors to Look Forward in Dubai in Next 10 Years
If you take a detailed look at the above comparison among the economies of the UAE and Monaco, many common sectors contribute tremendously to their wealth.
Administrative and Support Services; for HNWIs is something that makes up 20% of Monaco's GDP. This sector is set to grow in Dubai; whether these are concierge services, virtual/physical assistants, fashion designers, interior designers or collectables like NFTs and Art.
Real Estate and Construction; more or less takes up the same share of GDP between Monaco and Dubai. As the market matures; the quality work will thrive while volume work of setting-up tens of buildings will stay stagnant.
Financial and Insurance; is one of the most regulated area across the world. Dubai needs to accept international collateral against financial liabilities for larger transactions. With DIFC; Dubai is trying to achieve that and hopefully more boutique and investment banks will call it home in the coming years.
Tourism; will not do well in the coming 10 years whether that is personal or business. With rising competition from Saudi as well as COVID era risks and realization of how viruses spread; people will avoid unnecessary travel. This sector provides jobs to around 48% of residents and probably will be re-adjusted into support services.
Diamond and Gold Trading; with an influx of HNWIs; these industries are expected to grow whether in the form of final wearables or a raw commodity as hedge against inflation.
Our Opinion
We believe by 2030 Dubai will be somewhat of morph between Switzerland and Monaco for Middle East. Switzerland for its neutrality in a turbulent WWII Europe and Monaco for its Tax Friendly policies. For businesses; the environment ahead will stay chaotic for the foreseeable future where growth will be tied to change. A small SME construction company might want to venture into upgrading existing homes; a Travel agent; might want to focus more on healthcare tourism. One thing that COVID has taught everyone; you can not predict the future; and it is necessary to stay agile to stay afloat.